What Is Air compressor Check Valve ?
Check valves are a critical component to air compressors. Some compressors may even have multiple check valves. What does a check valve even do? How do you test to see if your air compressor check valve is working how it is supposed to? There is an easy way to test the valve, and you do not even need very many supplies.
Testing the valve requires a little know-how when it comes to the mechanics of it. That being said, you can always bring in your air compressor and have it tested professionally. You do not need to get yourself in over your head. The unsure you are, the larger the margin of error is, so be cautious.
Check valves are essential to maintaining. This is because they prevent air from moving back to where it is coming from. Without this, there is a chance of contamination and leaking air. That is the last thing you want to happen with your compressor.
Air Compressor Check Valve , What  Will You Need ?

As I mentioned, there are very few supplies that you will need for this task.
Air compressor with check valve(s)

To begin with, you will obviously need an air compressor.

Screwdriver

A small hammer will also suffice

You can also use whatever you find works. Tools are ideal for the job, however. As long as it is strong enough to tap the valve and get a response, it should be fine.

An assistant to help with the process

This is important. Having someone to look over your shoulder and help you out when you need it will be significantly useful. They will also be able to give you support if something goes awry.

Your ear

You check the valve using your hearing. This is where an assistant can come in handy. If your hearing is less than ideal, find someone who will be able to tell you what they hear.
Step-By-Step
These are the components of a check valve for an air compressor. During your check, you will be looking to see that the spring inside is not out of place. There are many different check valves out there, so this is just a general picture. The relative idea is the same for all of them.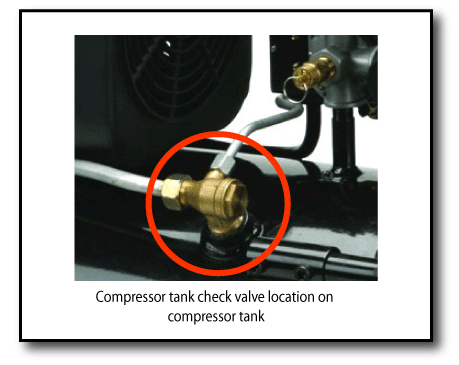 resource: fix-my-compressor.com
Here are the steps to take to check your check valve:
Turn off the air that is being pushed through the air compressor. This is critical for any type of check valve. Follow the supply line to the valve and turn it off and then wait 15 minutes. The 15 minutes are important to relieve the pressure that has built up over time. When the 15 minutes are up, it is time to move on.
Look for debris with your ears. Yes, you read that right. Take your screwdriver or hammer and tap the valve on its side. If you hear a rattling noise, all is well. Squeaking or grinding can mean that there may be some debris or that there is a leak.

Take the top off of the valve and check inside. Remove any debris that has accumulated. You should see everything in the right spot, and nothing should be loose or out of place.

After this, replace the cap on the valve. It is time to do one last test to ensure that the check valve is working properly with the real thing.

Have your assistant turn the air back on. After they do so, place your hand on the side of the valve and listen for any air whooshing out. You should hear clicking that indicates the valve is indeed working. If you hear any air, re-check the check valve and see if you cannot figure the problem out yourself.

If all is well, keep your compressor on and let it be. If not, take it to a professional to diagnose the problem. There is only so much you can do yourself, and there is nothing wrong with asking for a little help.
Conclusion
Checking you air compressor check valve is relatively simple. The main thing you have to make sure that you do is turning off the compressor before doing any work on it. Other than actual projects, that is. Do not keep it on while you are testing the valve for it can cause many problems.
Air compressors can be an awesome tool to have. They can help you do all of your tasks, and you will never want to use hand tools ever again. With many uses, air compressors are handy and will do you good with your projects.
Let me know what you think and if you enjoyed this article in the comments! Liked it a lot? Share and spread the word!