I was out in my garage this morning getting ready to start on another project. I'm going to be making a dresser for my youngest son. I found several good plans from the plans I bought from John Metz and chose one in particular that my wife and I both liked. Anyways, I got to thinking about the various shop tools that are essential for my projects. Then that got me thinking about shop accessories and hence this article.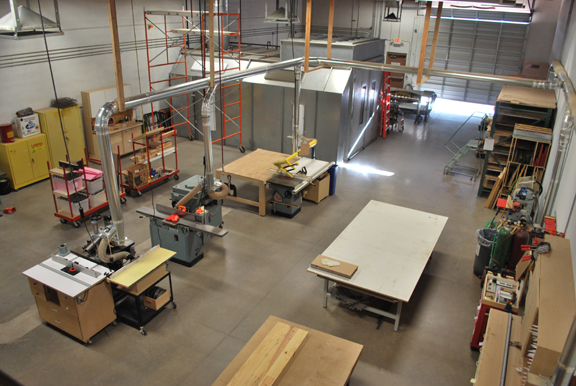 Below is a list of essential shop accessories that all shops should have to make your woodworking projects that much easier.
A good solid bench and bench vise. This by far is the most important accessory in any wood shop. A good solid bench will serve you for many years and is an excellent place to cut, and assemble your woodworking projects. Also a vise is absolutely necessary for holding all your pieces in place while you cut, plane, sand, etc. Don't skimp on these two items as they are the backbone of any shop.
Portable shop tables are also very handy, but not necessarily essential for all projects. I have one portable table that I built and attached wheels to. It isn't pretty, but it gets the job done. As a matter of fact, this could be one of your first woodworking projects if you are just staring out.
Saw horses are my best friends. I have a pair of old beat up saw horses that I built about 15 years ago and they have served me well all these years. They are an absolute necessity in my opinion. These could be another project for you to build. Mine were built out of some old pressure treated two by fours that I had lying around in my back yard. I just bought some strong hinges and used a small piece of rope to keep the legs from spreading out to far. Very simple project to build.
Tool storage is another must have. I currently have a large Craftsmen rolling tool cart that I use. It has many drawers for me to store all my tools and I can easily move it around my garage.
Another great thing to have in your shop is a place to store all your fasteners, such as nails and screws and such. A cheap way to create storage is to use old baby food jars. That way you can see what is in each one.
For any wood working project that requires assembly and I think that would be most projects, clamps are extremely important. Clamps are like having several extra hands and arms to help hold things together while you nail or while glue is drying. A definite must, for any shop.
As most of you may know, anytime you work with wood, there is going to be dust. So a good shop vacuum is a handy tool to have. I have a big 5 gallon shop vac that has all kinds of attachments. I use it all the time to clean up my bench and floors. It is extremely handy.
Last, but not least, a good bench grinder is a must as well. While this isn't necessarily for woodworking, I use mine to keep all my tools nice and sharp, which makes my projects go a lot easier.
My advice for people just starting out with a new work shop is to start slow and accumulate things over time. Don't skimp and buy cheap. The old saying, "you get what you pay for" definitely holds true when purchasing equipment and accessories. Definitely build things yourself when you can to help save money, like saw horses, shop tables and even your shop bench could be built as a first project.
I hope the above list helps you setup a great work shop for all of your small woodworking projects.
Until next time,