Do you want to know how to choose the perfect wheelbarrow air compressor? A quality air compressor is required to keep the machines working. Dust and oil in the compressor can contaminate the air and even damage the equipment. There are many things one needs to consider while buying a wheelbarrow air compressor. Here are the things to keep in mind.
The best thing about wheelbarrow air compressors is that the gas tanks are located at the bottom. This makes it easier to use them on rough terrain where regular compressors can be damaged. But you need to know that wheelbarrow air compressors are quite heavier than the regular ones.
People often get confused because there are many brands which manufacture wheelbarrow air compressor. The following elements need to be considered while buying a wheelbarrow air compressor.
Horsepower – Horsepower is the size of your beast. How much can it handle? This is indicated by horsepower. Make sure you know how much power do you need. More horsepower means that you'll be able to handle heavy duty tasks.
Tank size – The larger the tank, the more air supply it can provide. Time is of the essence here. So if you're planning to do heavy duty industrial tasks round the clock, make sure the tank size is large enough. Getting a smaller size can affect your productivity. Some equipment require high level of air, others can function on average supply. Figure out how much air will be needed. After that choose the tank size suitable with your machine.
Pressure – Pressure of an air compressor is indicated in PSI. So if your machine requires 90 psi of air, you need to buy at least 90 psi rated air compressor. Pressure is one of the most important things, as too much can destroy your equipment. The right amount of pressure is needed for optimum functioning.
Duty Cycle – The duty cycle of a equipment is an important factor. It measures the productivity of a machine which suits different work environments. So if the air compressor has a 60% duty cycle, this means that it will work for 6 minutes and then stay off for 4 minutes. The higher the duty cycle,  the more work it can do in a stretch. However, if your work doesn't require continuous usage, then it is best to have an average duty cycle compressor.
Oil vs. Oil Free – If you want the best portability, get an oil free air compressor. They don't consist of an oil tank which vastly reduces their size. The advanced technology in oil free compressors make them lighter and more portable. One thing to look for is whether the compressor is certified. For example, some compressors are certified by TUV Rheinland. Such certifications help user trust a particular product.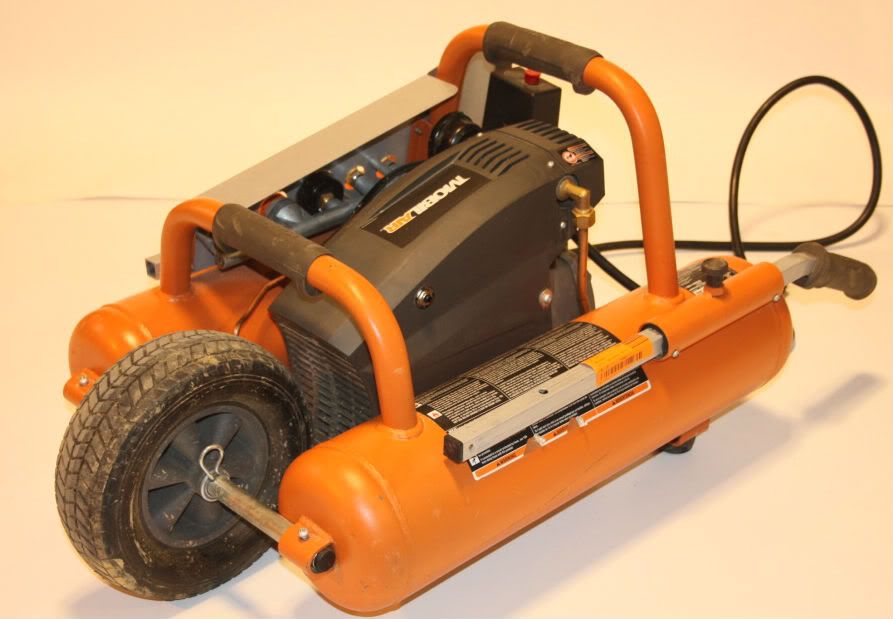 What are some of the brands?
When it comes to wheelbarrow air compressor, always do the research before you make the final call. Putting in more money doesn't always mean that you'll get a better product.
Some of the top brands which make wheelbarrow air compressor are Eagle, Iron Horse, DeWalt, Mi-T-M, Ingersoll Rand and Hitachi. Make sure you check through all of the specifications when you search an air compressor on their website or brochure. Some websites even have customer reviews, so make sure to check them out.
Wheelbarrow air compressors are powerful beasts made to survive in the battle. They are made for hardcore industry experts who want nothing but the best. Wheelbarrow air compressors are sturdy and with their single wheel, they can travel with you on any mean terrain.
Conclusion
A wheelbarrow air compressor is different from the regular compressors in many ways. It's sturdy and more powerful. Moreover, there are many things to keep in mind when buying a wheelbarrow air compressor. Horsepower, duty cycle, pressure, oil free and tank size are the primary factors which can help you make the right decision. Horsepower shows how powerful the machine is. Duty cycle shows how long it will work in a single stretch. Pressure is necessary as per machine requirements. Oil free compressors provide enhanced portability and they have the latest technology. And last but not the least,tank size determines how much air supply you'll be feeding into your machine. Keep all this things in mind to buy the best wheelbarrow air compressor in the market.
Read More: