Can you paint your laminate cabinets? How much would it cost to add another story? Will redoing your bathroom pay off when you resell? We asked the pros for advice on the right ways to renovate.
KITCHENS
1. Can I paint my existing wood cabinets and get good-looking results?
Painting cabinets can be successful especially as a short-term solution, according to Tim Aden, CKD,(*) CBD,([Dagger]) at Sawhill Custom Kitchens and Design in Minneapolis. Be warned that if you hire someone to do the job, it won't he inexpensive-existing cabinets must be cleaned, sanded, primed, and painted–but you will still save one third to one half the cost of new ones.
2.Can laminate cabinets be painted?
Painting laminate is not advisable, because paint doesn't adhere well and tends to chip off. A better option is a foil laminate applied with heat for a more durable finish.
3.Is refacing old cabinets a good option?
Refacing involves replacing cabinet doors and drawer fronts, and then applying new veneer to cabinet sides and surrounds. Refacing makes the most sense when you have relatively new cabinets hut just don't like the finish or style. If you start changing the configuration of your kitchen by moving the cabinets or adding pull-out drawers, the price differential between refacing and replacing narrows dramatically–perhaps for $5,000 more you could have completely new cabinets.
4.What are the best new storage features for cabinets?
The single most-asked-for item is a twin-hip wastebasket pullout, says Dan Lenner, CKD, CBD, of Morris Black Sons in Allentown, PA. With more communities recycling, the pullout provides a handy way to sort trash. Other desirable storage options:
* Roll-out shelves for pots, pans, and canned goods; those with chrome wire sides let you more easily see what's inside.
* Full-length pantry cabinets with pullout doors to provide maximum storage.
* A narrow pull-out unit in a base cabinet for two-liter soda bottles or cans.
* Deeper-than-standard wall cabinets for large platters and trig serving pieces.
* A slot for a stepstool–for kitchens with cabinets that extend to the ceiling.
* Hanging rails along the backsplash to hold knives, utensils, paper towels, or spice jars that slide onto racks.
* Appliance garages fitted with electrical outlets to reduce counter clutter.
5.Are high-end appliances just status symbols, or do they merit the expense?
"The average cook is not going to see any real benefit from a commercial-style oven or range," says St. Paul-based consultant Jim Krengel, CKD, CBD, author of Kitchens: Lifestyle and Design (PBC International, Inc.). "But anyone who really loves to cook will appreciate the extra control and higher BTUs." More sophisticated burners provide lower temperatures for simmering and extra-high heat for tasks like stir-frying. These stoves also boast six burners; but keep in mind that the average homeowner uses only two to prepare a meal. Also, these ovens are generally not self-cleaning.
Looks are one of the main reasons that people buy built-in refrigerators such as Sub-Zeros, but a well laid-out kitchen can make a freestanding refrigerator look just as nice for a fraction of the price.
6.What are the pros and cons of electric versus gas cooktops and ovens?
"It's generally agreed that, all other factors being equal, electric ovens and gas cooktops are better," says Krengel. When choosing, look for the features you like best, and be sure to get a self-cleaning oven–not continuous cleaning, which isn't as effective. For cooktops, most serious cooks prefer gas, because you can reduce the temperature of a burner immediately. But electric is generally a bit more accurate–a good electric range will bring water to a boil faster.
7. Is it better to have a separate cooktop and oven or one integral unit?
"It's very subjective," according to Krengel. "The two units actually have nothing to do with each other, so there is no reason for them to be together. If, the space is there, I would choose a separate cooktop and wall oven. The oven can then be installed at waist level,, which is the most comfortable height for all users." But separate units cost as much as 25 to 40 percent more than a single one. Dual-fuel units, which combine a gas cooktop and electric oven, are also available.
8. How do I know if I have the space for an island in my kitchen?
The most functional kitchen layout calls for a 42-inch clearance on each side of an island opposite a work center (such as an oven or sink) and a 36-inch clearance for a walkway. If you don't include a sink or cooktop, an island can even be a freestanding, movable table or cart, with locking casters.
9. How difficult is it to add a sink or cooktop to an island?
Installing a cooktop is relatively easy if you have a basement, because you'll need to run an additional electrical or gas line. Adding a sink is more costly; it requires installing supply and waste lines, but makes the island more functional.
10. What's the best kind of kitchen sink, Stainless steel seems hard to keep clean.
Good-quality stainless steel can be easy to care for, says Krengel. Stainless-steel sinks can cost as little as $39, but good ones with a higher nickel content will cost between $300 and $500. Tips for care: Don't use steel-wool pads–fibers can become embedded in the sink and rust; and always scour in the direction of the grain, not with a circular motion. An alternative: A porcelain-glazed cast-iron sink is easy to maintain if you don't use an abrasive cleanser.
11. What's better: a double- or triple-bowl sink?
Triple bowls take up too much counter space. A combination sink with a big how (33″ by 22″ for cleaning broiler paws) and a small bowl (for rinsing) is ideal.
12. Is it easy to add a waste disposal to an existing sink?
It's simple and well worth it; as long as there's an electric feed (ideally, on a separate circuit), a disposal can easily be hooked up to existing plumbing. Installation problems may arise in older homes because the waste line may be too high and need repositioning–an expensive procedure. Plan on spending about $200 for a good-quality product, and at least that much on installation, because it requires an electrician and a plumber.
13. How can I bring more natural light into my kitchen?
Adding a skylight, larger or additional windows, or French doors can improve the sense of space without a major redo. "And increasing the width and length of the skylight well gives the feeling of even more light," suggests Michael De Luca, CKD, ASID(*) a designer based in San Diego.
14. Are there any alternatives to fluorescent undercounter lighting?
"Yes!" says De Luca. Halogen strip-lighting or festoon lighting (which looks like small, wide fuses mounted on a strip), such as Clik-Strip from Ardee, gives even, continuous lighting across a countertop and backsplash, providing better task lighting and eliminating dark gaps that occur with fluorescent fixtures.
15. What are inexpensive ways to improve the way my kitchen looks?
Consider replacing your countertop and sink, suggests Ward Wrangen, department manager for Home Depot in Bloomfield, NJ. "It's easy to change a sink and faucet." he says. Fiberglass and cast-iron sinks cost about $140; faucets start at $60. "We measure and cut a Formica countertop, then install it for just a few hundred dollars." Installing vinyl floor tiles is an affordable do-it-yourself task also; tiles start at $4 a square foot.
BATHROOMS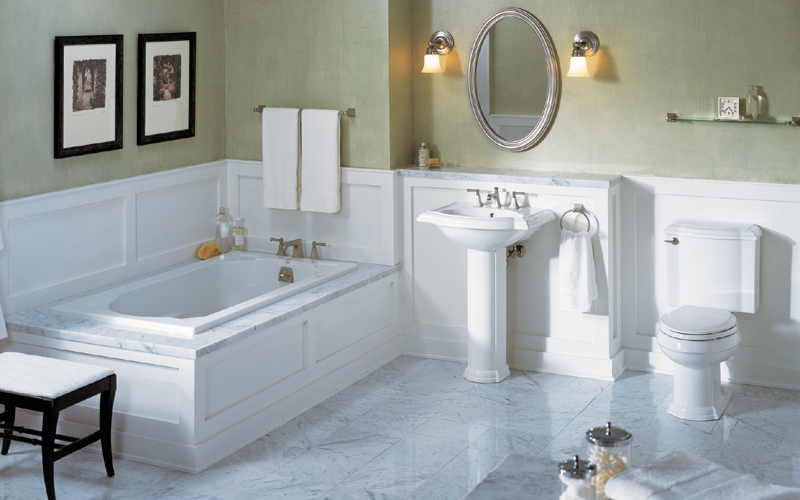 16. Can I easily replace a vanity with a pedestal sink??
It's simple if you're doing a complete renovation. In an existing bathroom, you may have to reposition the plumbing so the trap is centered behind the sink, explains Lenner. Also, the floor and wall that abut the cabinet may not have been finished beneath the vanity. The supply pipe running to the pedestal sink is a concern tool: Now that it will be visible, you'll want chrome or brass (to match the faucet) rather than an unfinished pipe.
17. How can I create more storage space?
Here are four suggestions:
* The area above the toilet or towel rack is often neglected space; install a cabinet or shelving there.
* Replace a standard vanity cabinet with one that has drawers, or replace a single-door medicine chest with a double-size chest.
* Install cubbyholes or minidrawers into a narrow niche beside the tub or toilet, for rolled-up towels or toiletries.
* Add freestanding storage with a small tiered table, plant stand, rolling cart, or baskets.
18. Can I add sliding glass doors to my existing tub/shower without trouble?
Yes, providing you "accurately measure the opening, so the new unit will be sized properly," says Martha Kerr, CBD, of Neil Kelly Designers/Remodelers in Portland, OR. Sliding doors can cost from $100 for a basic unit to $300 for a moderately priced, better-quality door to $1,000 for high-end trackless units.
Read more :  The 50 most common remodeling questions answered! 19 to 32